From Magic Johnson to Michael Jordan — why Kobe Bryant switched idols
Kobe threw a funny dig at his father while explaining why he decided to switch from Magic to MJ.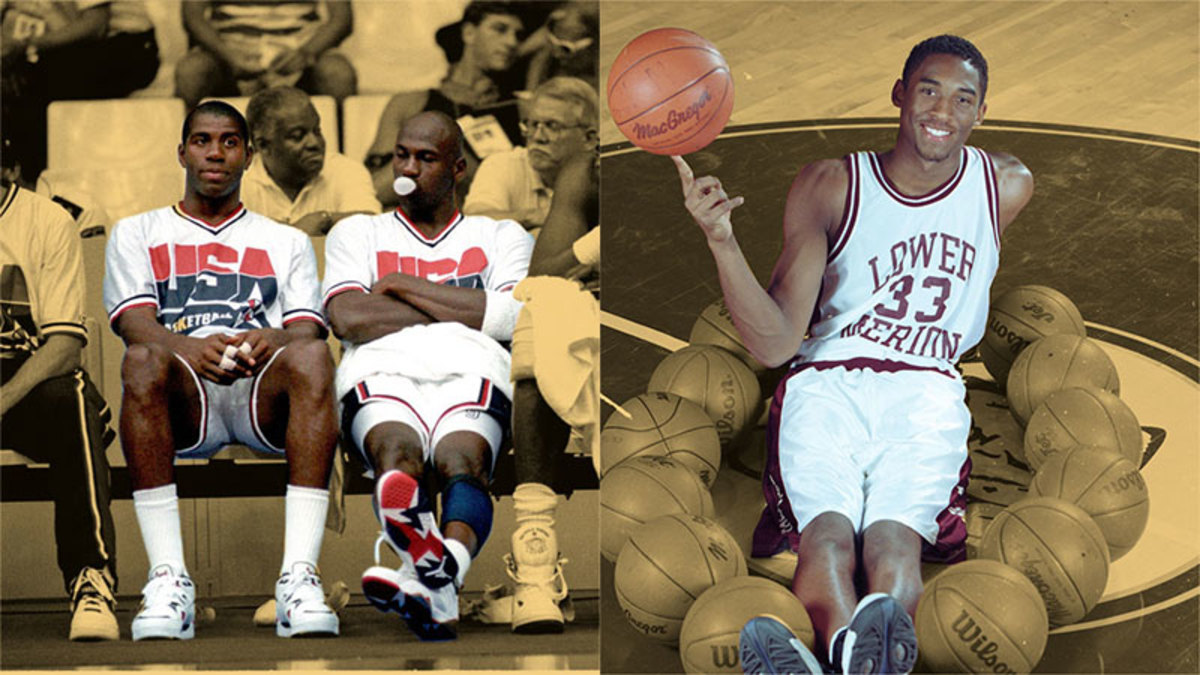 It's common knowledge by now that Kobe Bryant patterned his game after the GOAT, Michael Jordan. The perimeter mastery, the fadeaway shot, and the excellent footwork are all the things that remind us of both Jordan and Kobe. Interestingly, it wasn't always this way. Bryant revealed that he looked up to Magic Johnson growing up. But an unfortunate discovery made him switch heroes from Magic to Mike.
Point guard no more
Kobe was just like any other basketball fan in the 80s. He looked up to Magic and the Los Angeles Lakers. He was dazzled by the guard's fancy passes, which led to five NBA titles. With NBA dreams in his mind, Bryant emulated Magic. But a sudden realization made him abandon his fantasies of becoming a tall point guard.
"My favorite player was Magic growing up. I quickly realized my father stole all my height and I wasn't going to be a 6'9 point guard. So you look at this young guy coming up. And the thing that I marveled that wasn't the fact that he was getting to the rim and doing these fancy stuff. It was like, how is he getting to the rim? How is he doing it? You look at the footwork. Look at the fundamentals," Bryant said, per The Corp With A-Rod and Big Cat.
Bryant's reason may seem absurd. The man was listed at 6'6", just three inches shorter than Magic. But then again, every inch matters at the highest level of basketball. Bryant was a master of precision. He wanted to pattern his game to someone exactly as tall as he was.
A mix of Jordan and Magic
This looks like a great blessing in disguise. As we all know, Bryant perfectly emulated Jordan's playstyle. Like Mike, Kobe was a proficient scorer, especially from the perimeter. He also had a solid post-up game which he punctuated with a smooth fadeaway. It's clear that Kobe made the right choice. Jordan's playstyle fit his personality and propensity for scoring perfectly.
Though he patterned his game after Mike, there's evidence that Kobe had that Magic in him. Contrary to popular belief, Kobe was a pretty good playmaker. He averaged as much as 6.3 assists per game in the regular season. In the 2001 NBA Playoffs, where the Lakers suffered just one defeat, Kobe averaged 6.1 dimes per game.
This was an interesting revelation from Bryant. It shows how a stickler he was for detail and also how flexible he was in honing his game. Besides, when you pattern your game first to Magic and then to Mike, what could possibly go wrong?